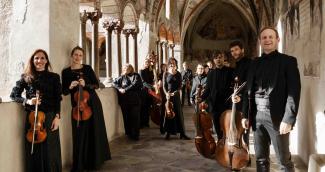 The Past - the Present

In 1992 the "New Hofkapelle Munich" was founded in the musical tradition of the Court Orchestra of the Elector of Munich. Christoph Hammer became its leader in 1996. In 2009 the baroque violinist and conductor Rüdiger Lotter re-formed the orchestra as the "Hofkapelle München". This orchestra is a non-profit corporation, the name "Hofkapelle München" is registered as a trademark.  The purpose of the Hofkapelle Munich is clearly defined through its name: the rediscovery and rejuvenation of the rich musical life in Munich and Bavaria from 1600 to 1850, equally in its instrumentation, its repertoire selection and in its historically informed style of playing.

 Some information about historical prototypes:

The tradition of music at the Munich court dates back to the early 16th century. The then hitherto disparate group of musicians was first united by court composer Ludwig Senfl into a professional ensemble. The orchestra's heyday began in 1556 with the appointment of Orlando di Lasso, the "princeps musicorum" (Prince of Musicians), by Duke Albrecht V of Bavaria to the head of the court orchestra in Munich. In the following 200 years the Munich "Hofkapelle" was regarded as a highly respected elite ensemble. Outstanding musicians, such as Agostino Steffani, Pietro Torri, and Evaristo Felice dall 'Abaco, were present at the Munich court. The fusion with the noted Mannheim "Hofkapelle" for the inauguration of Karl-Theodor in 1777 as the Elector of Bavaria lead the orchestra to a new artistic heights . For the Bavarian Court the appointment of highly esteemed singers and musicians, and its secular and spiritual emphasis on music was as equally important as the prominence of its architectonically magnificent buildings. In spite of its size, Bavaria became an outstanding artistic and cultural center in Europe. The orchestra that grew out of the fusion of the Mannheim and the Munich "Hofkapelle" became the Precursor of today's Bavarian State Orchestra.